This is the page where I post all the character bios for the characters that I have made.
All stories, characters, and images are © Red Leather Art.
*Main/Canon Characters*
*Side/Non-Canon Characters*
Notice: This information may be subject to changes/additions, and some things are left vague on purpose for story related reasons. (Or because I haven't gotten to something yet.) If interest in my work gets high, I may redo/extend most of these. However, I think this is good enough for now.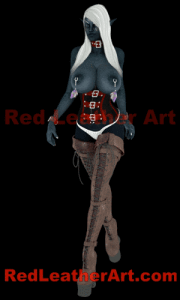 Sex: Female
Race: Dark Elf
Age: 231
Occupation: Slave trainer/breeder
Weapon(s) of Choice: Whips, Sex and Magic
Alignment: Neutral Evil
Stats:
Strength: 4
Dexterity: 4
Endurance: 5
Intelligence: 8
Wisdom: 6
Magic: 5
Charisma: 7
Sexual Skill: 8
Sexual Stamina: 7
Behavior Summary:
Zayla is a strong magic user and a very experienced slave breaker. Ever since she left her mother's fortress, she has tried very hard to make a name for herself. Dark elves are almost always evil in nature, and Zayla is no different; she has no problem kidnapping, bribing, blackmailing, or even torturing and killing those who get in her way. She spends her time gathering new slaves and pets and training the ones she has. This almost always involves rough sex; which has led Zayla to be quite skilled at sexual matters. Zayla can fight with a whip if necessary; but almost always can get her way using money, magic or her body. Though she is very assertive and rough with her slaves, Zayla actually cares about her more valuable slaves more than most people would; likely due to her having to go through so much trouble to get them.
Likes:
Acquiring new slaves/pets
Playing with her current slaves/pets
Being in control
Carnal sex
Large bags of coins
Dislikes:
Her mother
Her older sister
Disobedient slaves/pets
People who get in her way
People who try to steal/free her slaves/pets

Bio:
Zayla is the second daughter of the current matriarch of the Viraaz family. Her older sister is her mother's favorite, and the current heir to the Viraaz family matriarch title. Unfortunately, this leaves Zayla with nothing according to the Dark Elven inheritance customs. Most dark elf women in her position spend their days living in their sibling's fortresses, trying to kill their older sisters and take over, or just living out lives of hedonism with their slaves. Sadly, Zayla's older sister had no intention of making life easy for her and refused to take her in. This left Zayla with nowhere to go after her mother thought she was old enough to survive by herself and forced her to leave home. She left the dark elf homeland and tried many times to find a place to call her own.
After a many years of failed attempts and misadventures, Zayla eventually found her way to the human lands, where she she managed to acquire a (relatively) small slave farm. Zayla has spent the last few years building up the slave farm, and making money to buy a better place; hoping to eventually build a fortress of her own one day. She makes a lot of coin kidnapping nearby villagers and slaves and training them to become high quality pleasure slaves and then selling them. Zayla uses the money from her farm to buy new toys and other tiny farms around the continent to make even more coin. Probably due to all her work training slaves, Zayla has acquired a taste for bondage and restraints; and loves to experiment with them on her slaves. Zayla has a handful of minions under her command, but the most useful to her is Helenya Xelonica; who serves as her assistant and acquires new slaves and pets for her. Training and breeding slaves is legal in human lands, but Zayla does not have a permit (and would never be given one as a dark elf) and she usually kidnaps all her new slaves instead of buying them.
One of the last few times Zayla went out for a walk around her farm, she happened upon an escaped slave, that happened to be a futa elf. The elf's name was Salune and she and Zayla quickly got to know each other through sex and the futa elf eventually agreed to go back with Zayla. Salune was an extremely high quality slave, even if she wasn't a futa elf she would be worth gold coins. With her being a futa elf, as well as the numerious lust enchantments all over her body, Salune was worth a fortune. Zayla has no intention of selling her at the moment, and enjoys playing with her new favorite toy every day.
Zayla is more than happy to live a simple life on her slave farm, training and breeding slaves, but the surrounding villages are furious that people keep going missing. The local villagers are desperately trying to hire people to stop the kidnappings and get the missing villagers and slaves back, but so far nobody has managed to do so. All the while Zayla's power and wealth grow, allowing her to buy more land and expand her slave breeding/training business. She is currently working hard to expand into the nearby city of Lithorca, where well trained slaves are a highly valued item.

Special Information:
Zayla is very experienced sexually, and has had substantial experience with each of her holes and cocks of all shapes and sizes. She also has magical nipple charms that arouse anything that gets within a few feet of them, including herself; which keeps her constantly ready for sex. Zayla chooses not to wear "proper" clothes most of the time because she finds them too restricting. She is also an alchemist of reasonable skill, and makes her own potions; usually infertility potions for herself and lust and fertility potions for her slaves.
---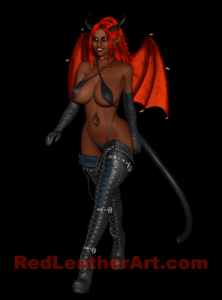 Helenya "Hel" Xelonica –
Sex: Female
Race: Demon
Age: 127
Occupation: Zayla's assistant and new slave hunter
Weapon(s) of choice: Sex, Magic and her tail
Alignment: Chaotic Evil
Stats:
Strength: 7
Dexterity: 5
Endurance: 7
Intelligence: 5
Wisdom: 4
Magic: 7 (11 without seal)
Charisma: 9
Sexual Skill: 10
Sexual Stamina: 11
Behavior Summary:
Helenya is a relatively average succubus, preoccupied with having as much sex as she can. She needs to feed off the lust and fluids of other creatures to survive. Helenya is young for a demon, but has already fucked most of the known types of creatures on the continent. She loves traveling around and meeting new people and monsters, almost as much as she enjoys fucking them senseless. Helenya doesn't really care who she works for or what they want, as long as they can pay her and guarantee a lot of rough sex to feed her. Unfortunately, most humans and elves do not react well to demons, and no brothel that she has found will employ a succubus, which leaves Helenya with few employment options. This means that she usually ends up doing bad things for evil people just to make money and get enough sex to survive.
Likes:
Depraved sex
Her mother
Huge cocks
Being stuffed full of hot cum
Dislikes:
Not getting enough sex
Demon hunters
Chaste people
People who talk about her weight
Bio:
Helenya the succubus is the only daughter of the famed demon mage, Cecilia Xelonica. This has given Helenya immense magical power and aptitude, not to mention a hot body. Helenya lived a happy early life at home with her mother, learning magic and sex. Her mother taught her about both these things personally, so she is quite knowledgeable about both topics. Unfortunately Helenya cannot currently use advanced spells properly, as she lacks the ability to control her great magical power. Her mother didn't want her only child accidentally blowing herself up, so she placed a powerful magical seal on Helenya, locking away most of her magic power.
After this, she then send her child out to learn about the world first hand and hopefully learn to control herself a bit more. Helenya wandered out of demon lands and found that most people hated demons, despite most of them never having actually seen one. She struggled to find work, and even struggled to get enough sex to sustain herself at first. Eventually she stumbled upon a small slave farm, run by a dark elf woman, Zayla Viraaz. They quickly became friends, and she agreed to let Helenya work for her. Hel has spent the last few years acquiring new slaves and pets for Zayla, recently focusing on high value targets. With her current employer, Hel gets to have all the sex she could ever want as well as being paid to have it. She is quite happy with her current situation, and even gets to play with Zayla on occasion.

Special Information:
Helenya has serious trouble controlling anything but the most basic spells. To remedy this in the short term, her mother placed a powerful seal on her stomach. The seal locks away the majority of Hel's magic power and also prevents her from getting pregnant. Her mother didn't want her hurting herself or thinning the clan's bloodline by having dozens of illegitimate heirs from her constant sex. Cecilia promised to remove the seal if Hel brought home a suitable mate and could demonstrate that she had more control over her magic. Since her mother is one of the most powerful mages alive, the seal is unbreakable by anyone else.
Helenya loves having sex but has trouble holding back; she almost always reaches orgasm before her partner(s). Like all succubi, Helenya has a perpetually wet pussy and can use it to fatally milk most male creatures if she chooses – though she rarely does this unless threatened or angered. In addition to this, her pussy always remains tight, regardless of how large a cock she takes in it. She is also experienced in servicing women, with or without using her tail; even though she doesn't get as much to feed off of from women. Her tail is much thicker than the average demon's, and she can swing it hard enough to knock out most people. It is also very sensitive, more so than the average man's cock. Hel was always teased when she was young for having a fat tail, big butt and puffy cheeks compared to the other demon girls; and she is still very sensitive about these topics.
---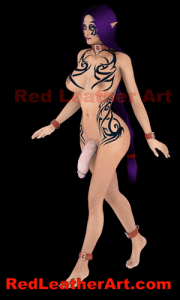 Salune –
Sex: Futa
Race: Forest Elf?
Age: Unknown
Occupation: Zayla's favorite sex slave
Weapon(s) of choice: none
Alignment: True Neutral
Stats:
Strength: 2
Dexterity: 5
Endurance: 3
Intelligence: 2
Wisdom: 2
Magic: 1
Charisma: 6
Sexual Skill: 4
Sexual Stamina: 9
Behavior Summary:
Salune is a futa elf, one of only a handful known to exist on the continent. Unfortunately for her, she was captured, brainwashed, and tattooed with powerful lust enchantments. She escaped from her initial mistress who treated her very poorly and was found by Zayla. Ever since, Salune has lived a happy life as Zayla's favorite slave; servicing her mistress as well as her other slaves and pets. Salune is treated well by Zayla and usually gets the constant sex that she needs, so she is very happy being her sex slave and has no desire to leave. She has no idea how to fight, and the enchantments on her body prevent her from even trying to put up any resistance. Salune is completely consumed by her body's unending need for sex, caused by the numerous lust enchantments tattooed over most of her body. This is complicated by the fact that Salune is a futa elf, which are extremely rare and have high libidos already.
Likes:
Passionate sex
Mistress Zayla
Fucking Zayla's other slaves/pets
Having orgasms
Dislikes:
Going without sex
Being treated badly
People who are too rough with her
People who cause trouble for Mistress Zayla
Bio:
Salune has no memory of her past, and has no real interest in finding it out. All she knows is her first name and that she is a futa elf, one of few. She was captured and slowly converted into a sex slave by her former mistress on an elf farm. There is no way of telling how long Salune was there or what happened while she was there, as Salune can only remember tiny bits of her life at the elf farm. Salune managed to escape the abusive elf farm, and was quickly found and taken in by Zayla. Since then, she has lived a life of near constant sex with whoever or whatever Zayla tells her. Though her understanding of her situation is very limited, Salune loves her new mistress and spends most nights with her in Zayla's bed.

Special Information:
Most futa elves are quickly kidnapped and sold as sex slaves/pets to rich nobles; and Salune has gone down this path as well. She has extensive sexual experience from being trained as a sex slave, and is skilled in most sexual situations. Salune is basically incapable of making her own decisions in her current state and is driven by her body's immense sexual need; she relies on the people around her to treat her well. The lust enchantments on her torso sap the strength from her body if she gets really aroused, rendering her helpless in most situations. Her lack of control over her body's desires also means that she cannot refuse sex, even if she is instructed otherwise. Salune is capable of repeatedly blowing out thick, full loads with her cock, probably due to her body being conditioned to constant sex. Both her cock and pussy are fully functional, but Salune doesn't understand enough to care if she gets pregnant or if she impregnates another slave; as long as she gets to have sex, she is happy. For all she knows, she has birthed and/or fathered dozens of children already…
---
Lucia –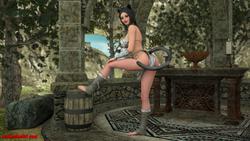 Sex: Female
Race: Catgirl
Age: 19
Occupation: Tribe breeder/gatherer
Weapon(s) of choice: Claws, teeth
Alignment: Chaotic Good
Stats:
Strength: 6
Dexterity: 10
Endurance: 6
Intelligence: 4
Wisdom: 5
Magic: 0
Charisma: 8
Sexual Skill: 5
Sexual Stamina: 8
Behavior Summary:
Lucia is a breeder/gatherer for the catgirl tribe, like all young catgirls are. They are sent out to breed as much as possible and bring the children back to the tribe to be cared for while the mother goes back out to work. As most catgirls have great difficulty having children, they are also tasked to gather money, food, and other resources for the tribe. Lucia has so far had no luck with breeding, but has made a fair bit of money as she travels around from village to village. Unfortunately she usually spends it on fish and cream instead of bringing it home like she is supposed to. She also does not like hard work, and ends up usually taking dangerous, high paying jobs that involve monsters. Lucia is a gentle creature, and doesn't like hurting others or being mean to people; she only uses her claws in self-defense. She does have a tendency to steal food when she is really hungry, however.
Likes:
Fish
Drinking cream/cum
Hot sex
Naps
Creampies
Dislikes:
Being infertile
Being hungry
Not getting paid
Mean people
Hard work
Bio:
Lucia was born into the catgirl tribe, one of only 500 or so catgirls that are left. There are two reasons for these low numbers; first, almost all catgirls are born with very low fertility. It was rare for the majority of catgirls to have more than one child in their lifetime (if any), hence the low population. The other reason was because male children were almost unheard of in the tribe, Lucia has never even seen one. If a male is born it is usually sold off by the mother to a rich noblewoman as an exotic pet for a small fortune, which is then used to feed the entire tribe for years. This also means that all catgirls are forced to search elsewhere for males to father their children. Lucia lived a happy, carefree childhood with the tribe and was sent out as a breeder/gatherer once she came of age. Since then she has wandered the land in search of coin and anything else of value, all while desperately trying to have children. Lucia has had many fascinating adventures and lots of rough sex with various creatures and people, but has so far failed to get pregnant.
Special Information:
Like the majority of her tribe, Lucia is almost totally infertile. Even if she were to be pumped full of cum every day for a month, she would be incredibly lucky if she got pregnant from it. Desperately wanting to have children, Lucia has no problem fucking anyone or anything, especially if it will make her money or get her fed. Due to their extremely limited numbers, catgirls are a highly sought after target in the slave training business; even if they are useless for breeding.
---
Karen Stormborne –

Sex: Female
Race: Human
Age: 21
Occupation: Courtesan
Weapon(s) of choice: None
Alignment: Neutral Good
Stats:
Strength: 4
Dexterity: 5
Endurance: 3
Intelligence: 7
Wisdom: 5
Magic: 0
Charisma: 8
Sexual Skill: 7
Sexual Stamina: 8
Behavior Summary:
Karen is a very unusual girl. She works at a brothel willingly, and even takes customers that most of the other girls won't. Karen is very loving and open, and is happy to share her body with anyone who is interested in her, male or female, regardless of race. She is very secretive about her past, but nobody really asks her about it anymore.
Likes:
Carnal Sex
Sucking fat cocks
Creampies
Being pregnant
Nonhumans/Creatures
Dislikes:
Snobby nobles
Manipulative people
Corrupt guards
Bullies
Abusive men
Bio:
There is not much that can be said about Karen Stormborne that is not common knowledge in Lithorca. She simply showed up at the town's best brothel one day asking for a job. This was incredibly rare, as most of the whores there were elven slaves or daughters sold by families that couldn't afford to take care of them. Karen quickly became the most popular girl at the brothel, mainly because she never turned away a client and charged less than the other girls did. This annoyed the other whores greatly, especially the elven slave girls who were only kept around as long as they made lots of coin for the owner of the brothel. A few of the other popular girls at the brothel tried various things to get Karen in trouble, but nothing worked.
Eventually one of the girls tricked Karen into taking powerful fertility potions, and she quickly got pregnant. However the owner was not about to let the most popular girl in the brothel go so easily, especially considering she was free to leave if she wanted. The owner let Karen stay as long as she could still work, and to everyone's surprise Karen drew in even more customers once word got around town that she was pregnant. Now she is close to giving birth and shows no sign of letting up on her work, Karen has even made enough money to buy a small house in town. Initially everyone was curious who she was and where she came from, but Karen never answered any questions. Now, over a year later nobody really cares where she came from anymore; she is easily one of the most popular women in town.
Special Information:
Almost nine months ago, one of the elven courtesans at the brothel where Karen works decided to switch Karen's infertility potions with strong fertility potions in an attempt to get her fired. Due to this, Karen is almost eight months pregnant with an unknown child. Though she did not get pregnant intentionally, Karen is happy and looks forward to having her first child. Since she has so much sex with so many people – including nonhumans and the occasional creature, it is unlikely that she will ever know who the father was, even once the baby is born. Karen has already decided that she won't bother taking infertility potions anymore once she gives birth, as she plans to get pregnant again as soon as possible. This is mainly because she has learned to really enjoy having rough sex while pregnant, as well as the increased attention she gets from customers with her pregnant belly.
---
James Desark –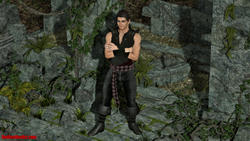 Sex: Male
Race: Human
Age: 27
Occupation: Adventurer/Mercenary
Weapon(s) of choice: Fists, Feet, Sex
Alignment: Chaotic Good
Stats:
Strength: 8
Dexterity: 6
Endurance: 10
Intelligence: 6
Wisdom: 7
Magic: 2
Charisma: 7
Sexual Skill: 8
Sexual Stamina: 8
Behavior Summary:
James is very tough in every way, mostly taking after his father. However he is also very kind and fair, which took from his mother. Mostly due to his mother's teachings, James usually follows his own conscience and does what he feels is right, regardless of the laws or consequences. However, what he feels is right is not always what other people feel is right; which tends to lead to problems, especially when a job is involved. He has proved very successful as a mercenary, cleaning up local monster infestations or bandits with Tabitha. James prides himself on being a man of his word, and always keeps his promises/deals if at all possible. (Unless the other person was untruthful or breaks their word/end of the deal first.) Mostly due to his high libido, he does have a weakness for attractive women; and has a very hard time turning down free rough sex when offered. James is a generally good man and tries to help people if he can, regardless of race; which is unusual for a human.
Likes:
Rough sex
Tabitha
Adventure
Punching and kicking things/people
Busty, attractive women (especially elves)
Dislikes:
Power abusing nobles
Evil creatures/people
Cruel slave owners
Bandits
Job posters that don't pay
Bio:
James Desark is the only child of the Human champion, Nathan Desark; hero of both elven wars. He was brought up in Greenlake village, the village and land given to his father by the king for his service. His early life was fairly uneventful until the Wild Fang bandits attacked Greenlake village when he was 18. During this attack, many villagers were killed including the family of his lifelong friend, Tabitha Westfield. Tabitha then was taken in by James and his mother, against the wishes of his father. Things worked well enough until his mother passed away a few years later from a strange disease. After this, his father had no reason to let Tabitha stay and forced her to leave.
James was unwilling to abandon his lifelong friend (and lover) and was determined to find a way to keep her around. James and Tabitha worked together taking various local mercenary jobs to rent a small house in the village. Now the jobs around Greenlake are becoming too few to pay Tabitha's rent and their other expenses. Fortunately; James received a letter around this time from his cousin; Matthew Baxter. Matt worked for the Adventurer's Guild, in the town of Lithorca; about three weeks journey away from Greenlake village. The letter stated that the guild master of the Lithorca branch had just died and that many of the guild members had left, leaving the guild in a poor state. Matt explained that he really needed help getting things back together, and hoped that James could help. Having no better options, James and Tabitha set out for Lithorca in hopes of finding work.
Special Information:
James has exceptional physical strength and endurance, brought about from the hard training his father had put him through his whole life. He can use weapons if necessary but prefers to fight unarmed; his father is the greatest unarmed fighter in the human kingdom and taught him to never rely on weapons. He also has a far higher libido than normal humans; he has sex with Tabitha almost every day, usually more than once. Due to this and his soft linen pants (that Tabitha made him), James does not bother wearing underwear; it would only get in the way. James considers Tabitha to be his best friend (with benefits) and works hard to keep her from getting in any serious trouble. He is technically a noble, but doesn't tell people or behave like one unless it is absolutely necessary.
---
Tabitha Westfield –

Sex: Female
Race: Human
Age: 26
Occupation: Thief/Treasure Hunter
Weapon(s) of choice: Knives, Sex
Alignment: Chaotic Good
Stats:
Strength: 5
Dexterity: 8
Endurance: 6
Intelligence: 5
Wisdom: 4
Magic: 1
Charisma: 4
Sexual Skill: 6
Sexual Stamina: 8
Behavior Summary:
Tabitha is a skilled thief and perfectly comfortable robbing people blind, as long as they aren't poor to begin with. Tabitha has considerable sexual experience from her years of practice with James and has no problem using her body to get what she wants from people or to get out of trouble with the guards. There are two kinds of sex to her; the passionate kind that she has with James, and the rough kind she uses to get discounts from shops or out of trouble with guards. Tabitha greatly prefers the passionate kind of sex but has grown to like rough sex as well, since it can get her all sorts of things and there is no danger of her getting pregnant. The only reason that she has not turned evil is because of her lifelong friend, James Desark; who is a generally good man and tries to keep her in line.
James is the only person left alive that Tabitha truly cares about; she would never do anything to distance herself from him and because of that she usually tries to use her skills for the greater good. Tabitha used to be a very gentle and loving girl but now she keeps other people at a distance emotionally, never getting close to them because of her history of losing people she cares about. This results in Tabitha being very rude and aggressive with most people, (especially other women that she considers competition) but she still acts like her old, loving self when she is alone with James. He is all Tabitha has left in the world; she loves him dearly and would do anything for him; though she would never admit this publicly. Due to all of this, she gets extremely jealous whenever she catches James with another woman. Wherever James is, Tabitha is never far away. She also still harbors a lingering hatred of bandits which James shares to a lesser extent.
Likes:
James
Passionate sex
Stealing things
Rich people
Sewing
Dislikes:
Bandits
James's father
Children
Poor people
Fish
Bio:
Tabitha was a simple tailor's daughter until her entire family was murdered by bandits the day after her 18th birthday. Her mother, father, and younger sister were asleep in her house when it was burned down by the Wild Fang bandits when they attacked Greenlake village. Tabitha was not at home that night because she sneaked out to go spent the night with her best friend, James. After the bandit attack, Tabitha had nowhere to go and she moved in with James and his family at his mother's insistence. She was devastated at losing her family but was comforted by James and his mother, and grew very close to both of them. James's mother always encouraged James and Tabitha to be together, even though his father disapproved. Tabitha also began training to fight during this time, with James's help. She was very happy living like this until James's mother suddenly became very sick and died.
Tabitha took this new loss very hard, much harder than James or his father did. She decided that the world was too cruel a place for her to ever be happy with a normal life, and decided that she no longer wanted to be a simple seamstress. Tabitha became a thief, utilizing the fighting skills she had learned over the past few years and her nimble fingers from sewing. Upon finding out about her new "hobby" from some of the other villager, James's father immediately threw Tabitha out. James didn't want to lose his best friend (and lover) so he helped Tabitha make enough coin to rent a place for Tabitha to stay. This worked fine for a few years and the two of them spent the majority of the past four years together, working during the day and "comforting" each other at night. Jobs have become scarce lately in Greenlake, and Tabitha had stolen anything of value that the villagers had left after a few years so she was having trouble paying the rent lately. Luckily, James had received a letter from his cousin, Matthew Baxter in Lithorca asking for his help with the Adventurer's Guild. The two of them quickly prepared to leave for Lithorca, and set out in hopes of finding work. Though James was going in search of standard contract work, Tabitha knew she would have no shortage of things to steal in the city; which she greatly looked forward to…

Special Information:
Tabitha hates kids and realized early on that she could never afford to pay rent and keep buying infertility potions to prevent her from getting pregnant from her constant sex with James. To remedy this, Tabitha used some money that she had put aside over the past few years and paid a traveling priestess of the goddess to place the "Goddess's Seal" on her belly. This magical seal on her stomach prevents most "evil" magic spells from working on her and also prevents any pregnancy until removed by a priestess of the goddess. She had a little money left over after buying the seal and got a small lust enchantment on her lower back; to help her keep up with James's high sex drive. Due to both James and herself needing sex frequently now, they usually have sex multiple times a day; so at any given time, there is a 90% chance that Tabitha's womb and vagina are packed full of his thick semen. Tabitha is still a talented seamstress and makes her own clothes, as well as some for James.
---
Xan Brightsong-

Sex: Male
Race: Forest Elf
Age: 547
Occupation: Wandering Druid/Slave Liberator
Weapon(s) of choice: Magic, Summoned Creatures
Alignment: Neutral Good
Stats:
Strength: 3
Dexterity: 5
Endurance: 4
Intelligence: 9
Wisdom: 10
Magic: 10
Charisma: 5
Sexual Skill: 5 (9 with magic/summons)
Sexual Stamina: 3 (10 with magic/summons)
Behavior Summary:
Xan Brightsong is one of the oldest and bravest forest elves still alive today. He is the only elf known to wander human lands alone for years and survive unharmed. When asked why he is wandering at his age, he only says that he is "searching for someone" and nothing more. His search seems to be going poorly however as he spends most of his time traveling and freeing slaves wherever he goes. As most slaves in the human kingdom tend to be elven females, Xan cannot stand seeing them in such a situation and feels obligated to free them from their often harsh and brutal human masters. Despite being an elf in human lands, he harbors no particular hatred of humans, which anyone would expect after seeing elves abused by human hands for centuries; only a vague dislike as he is old enough to remember the times before the current elven enslavement problem and the centuries that humans and elves worked together. He works hard to free abused slaves wherever he goes, whatever their race or gender may be.
Xan is generally not one for sex himself anymore, perhaps due to his age; but he has no problem summoning magical creatures or tentacles to do it for him when necessary or appropriate. He is generally a force for good, but as slavery is legal in human lands; Xan often finds himself on the wrong side of the "Law" when liberating slaves. He does his best to respect most human laws, except those relating to slavery. As a free elf in human lands he is constantly harassed and hunted, even if the guards don't specifically recognize him. Due to this and his love of nature, Xan rarely travels on the main roads and instead moves through the forests and other side routes that most humans would never dare travel.
Likes:
Most elves
Magic
Reading
Nature
Freeing slaves
Dislikes:
Slavery
Cruel slave owners
Meaningless sex
Dark Elves
Racist Humans
Bio:
Xan Brightsong's true past is unknown to anyone in human lands, but rumors about him started centuries ago. There were whispers of a lone elf mage that had taken out entire battalions of human soldiers single-handedly. Many other stories tell of him freeing mistreated slaves and helping them escape human lands. These legends continued until semi-recently when he seemed to vanish for a few decades, around the time of the Elven Wars. Perhaps he never vanished at all and the stories about him at the time were obfuscated by the war that was going on, no one can be sure. What is certain is that he is a force for freedom and justice for all good elves and slaves; and the bane of any slave owner.

Special Information:
Xan has numerous magic boosting tattoos on his body, most of which are very rare and expensive; boosting his already powerful magic. He refuses to state where he got them or why, but his magic is currently strong enough to be considered one of the strongest forest elf mages. Xan also possesses a strange magical tome which is unreadable by most people. It seems to give him all of his summoning spells, but there is no way to be sure what else it contains or if he even needs it anymore. Despite being fairly old, Xan barely looks older than a forty year old human. Having traveled extensively, Xan has seen much and knows much of the world. Little surprises him anymore and he is rarely put off by adverse circumstances. The druid is easily old enough to have fought in both Elven Wars and perhaps even many earlier wars, but he never answers any questions on the topic.
Matthew Baxter-

Sex: Male
Race: Human
Age: 29
Occupation: Adventurer's Guild Member/Mercenary
Weapon(s) of choice: Sword, Shield
Alignment: Lawful Good
Stats:
Strength: 7
Dexterity: 5
Endurance: 7
Intelligence: 5
Wisdom: 6
Magic: 1
Charisma: 6
Sexual Skill: 4
Sexual Stamina: 3
Behavior Summary:
Matthew Baxter is the senior remaining member of the Lithorca Adventurer's Guild, making him the defacto leader at the moment; and as such he has worked very hard to keep what remains of the Lithorca branch together since the guild master died mysteriously. Even before the guild fell apart, he was well known for taking on many jobs other members would not and even working for very little if he felt the customer was in need or the cause just. So long as he believes in what he is doing, he will give any job his best; giving him a popular reputation both in the guild and the city.
Likes:
Family/friends
Fighting
Helping people
Doing the morally right thing
Other Adventurer's Guild members
Dislikes:
Evil creatures/people
Racist Humans
Corrupt guards/officials
Monsters
Crime
Bio:
Matt was born in Greenlake Village; and his mother is the sister of Nathan Desark, James' father. Matt lived there until he turned eighteen, when he left to find work in the nearest city, Lithorca. He was good friends with James and Tabitha, though he only knew Tabitha before her family died and her behavior and personality changed. Matt has been writing letters to James and to his parents a few times a year since he left and gets a few in return, exchanging information on the city and what has been going on back home. He felt a bit guilty when he heard about the bandit attack a few years after he left, but he knew that him being there wouldn't have changed much.

Special Information:
Though a simple swordfighter, Matthew has worked hard to be very good at what he does. He may not be the sharpest knife in the drawer, but he is still one of the most useful. His good nature and helpfulness have made him a popular figure in Lithorca with almost everyone.
---
Faye Nelosi-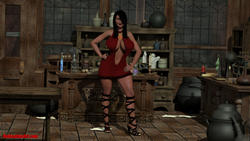 Sex: Female
Race: Human
Age: 39
Occupation: Alchemist/Temporary Adventurer's Guild-mistress
Weapon(s) of choice: Potions, poisons, bombs
Alignment: Neutral Good
Stats:
Strength: 5
Dexterity: 3
Endurance: 5
Intelligence: 7
Wisdom: 8
Magic: 4
Charisma: 9
Sexual Skill: 7
Sexual Stamina: 5
Behavior Summary:
Though Matt is the current guild master in practice, Faye is the guild-mistress in title and technicality; as she handles all the job requests and finances. (As Matt has enough work to do as it is, and he is not great with paperwork.) She does all this while running her shop, and occasionally helping her daughter in one way or another. All of these things have left Faye very little time for herself… and even less time to deal with her increasingly unattended desires. She has a very devoted and loving personality which has made her many friends as well as a very successful business, but it makes her current lack of a significant other that much more painful. The only two things Faye really wants is a man to satisfy her seriously pent up needs, and for her daughter to not be so angry and aggressive all the time; but neither seem particularly likely…
Likes:
Alchemy
Passionate sex
Her daughter
Helping people
Hot young studs
Dislikes:
People who abuse authority/corruption
Thieves
Not getting sex/being lonely
Anal sex
Her daughter's increasingly violent nature
Bio:
Faye came to Lithorca twenty years ago on a ship from her home across the western sea; of course this was back when the docks were still safe and ships would actually take passengers across. She started out selling simple potions in the marketplace, and has since risen all the way up to having her own shop and being know as the best alchemist in the city/area. Shortly after arriving in Lithorca, she adopted an orphaned half-elf girl from the marketplace and raised her after she was abandoned by her elven mother. Things were fine enough until her daughter joined the Adventurer's Guild at age 20 and became more and more violent and over-protective of her – seemingly compensating for losing her real mother. Though incredibly attractive in many ways, Faye has always struggled to find any serious, long-term partners for one reason or another. Initially, she was very poor, busy, and had confidence problems; but now she has to deal with her daughter's refusal to let any men near her mother if she senses any sexual intent. This has led to her current predicament where no man in or around Lithorca would even seriously consider even touching Faye due to the almost certain death that would follow. Despite this awkward situation, Faye still tries to support her daughter's efforts at the guild and provides assorted goods at a discount; and even stepped in to handle the finances when the old guild master died. Faye's potions and recipes are highly sought after and many different people from all over the kingdom would pay vast amounts of money to find out what her "secret ingredient" is.

Special Information:
Faye is know to almost everyone in Lithorca and even beyond for her great skill in alchemy and great beauty. However, despite this; nobody is willing to approach her romantically due to her daughter killing the last three men who (seemingly) tried. (Two weren't exactly on purpose.) She desperately longs for someone to keep her company and/or satisfied, but has yet to find anyone brave enough, or dumb enough to even try to touch her in almost eight years now. Although she was once highly skilled in assorted sexual activities, her long lack of any real sex has rusted her skills a bit – particularly her stamina. Somewhat ironically, she is nowhere near as helpless as her daughter thinks; and she carries several highly effective bombs on her person at all times.
---
Belle-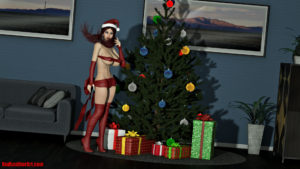 Sex: Female
Race: Mystic Elf
Age: 328
Occupation: Xmas Elf/Gift Deliverer
Weapon(s) of choice: Gifts, Sex, Magic
Alignment: Neutral Good
Stats:
Strength: 3
Dexterity: 9
Endurance: 4
Intelligence: 6
Wisdom: 8
Magic: 10 (but limited)
Charisma: 9
Sexual Skill: 6
Sexual Stamina: 8
Behavior Summary:
Belle spends most of her time researching/testing out new toy ideas, and then comes around to her designated area in her assigned city – the Merchant's District of Lithorca, every year to bring gifts to all of the good people who deserve them. Like all the Mystic Elves, Belle is a very kind and good person, and so she responds well to other good people – especially those who think of others. She loves bringing presents to all the nice people each year, but she really hopes that someone will give her a present sometime – as she is the only good person who doesn't get one… but it isn't right for her to give herself a gift. Her gifts can take many forms, and come in many shapes and sizes; sometimes what people need at Xmas is a good "cuddle"… which counts as a gift.
Likes:
Xmas
Kind people
Her sisters
Cuddly sex
Toys (of all shapes and sizes)
Dislikes:
Hot Weather
Naughty people
Evil people
Overly rough sex
Spicy food
Bio:
Belle is one of the legendary mystic elven sisters that bring presents to all the good people of the world every year at Xmas. Nobody is sure where they come from, or even where they live; but there have been stories about the Xmas elves for as long as any of the races can remember. The Mystic Elves are an all female race of particularly magical elves – that have immense magical powers with severe limits on them. Much like many of the beastmen, a Mystic elf can only give birth to another Mystic elf, and they are always female… and quite attractive. For whatever reason, they cannot use any offensive magic unless they are directly threatened… which effectively never happens since they rarely come into direct contact with people. They specialize in teleportation, and summoning – and primarily use these powers to bring gifts to people at the end of each year on Xmas eve. Belle and her sisters primarily visit the Human, Elven, and Western Kingdoms these days… as most of the time the other races are far too naughty to deserve presents – one of the few exceptions being the Catgirl Tribe.

Special Information:
The Mystic Elves are loved by most people and a favorite story of children throughout the lands – except in the Dark Elven and Demon Kingdoms, where they have never really visited… and are therefore thought of as enemies and/or a particularly rare treat, if someone managed to catch one somehow. The Mystic Elves don't have to worry about overpopulation, as their children are rare enough that it has never been a problem (only because "contact" with men is so rare – they are quite fertile); they somehow manage to keep up with the growing population of the world and have enough of them to make all the gifts. 🙂 As of the latest mini-set, Belle is also the proud mother to two daughters – Love and Joy. Final note: Belle is not currently a "canon" character – and therefore is not likely to appear in the main storyline, only mini-sets and side renders.
---
Nylavi-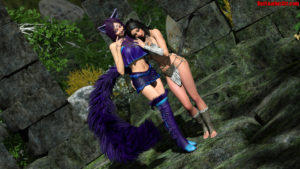 Sex: Female
Race: Foxgirl/Kitsune
Age: 32
Occupation: Forest Guardian
Weapon(s) of choice: Magic. Sex. Tricks
Alignment: Chaotic Neutral
Stats:
Strength: 5
Dexterity: 9
Endurance: 4
Intelligence: 7
Wisdom: 8
Magic: 9
Charisma: 11 (Often enhanced with magic)
Sexual Skill: 8 (Also often enhanced with magic)
Sexual Stamina: 9
Behavior Summary:
The foxgirl Nylavi spends most of her time lounging around the great forest, playing with either herself, or anyone particularly attractive that happens to be passing by. She is not particularly good or evil, but is very mischievous by nature – and is willing to do almost anything to keep the forest and those she considers under her protection safe. She also enjoys toying with strangers who enter the forest, even if they don't have any particularly malicious intentions – although she tries not to kill anyone unless they are a threat. This is not done out of malice or anything – in truth, Nylavi is just intensely lonely; and she desperately wishes for some serious kind of companionship.
Likes:
Forests
Animals
Lusty Sex
Beastgirls
Forest Elves
Dislikes:
Most Humans
Orcs
Demons
Anyone who tries to harm the forest
Anyone who tries to kidnap or harm forest residents
Bio:
Nylavi is a foxgirl, a very rare species beastmen – there are less than a hundred foxgirls known to still exist. Like most of her kind, her job is to protect her assigned forest and it's residents. She has powerful magic, as a result of her special bloodline – and specializes in illusion and lust spells… and has had years to practice them. Nylavi lives off of food from the forest, as well as tribute that the forest elves bring her each month. She is also known to almost always fuck the elf that brings the tribute… which has led to some issues regarding who gets chosen to do it. However, this is also part of the contract that binds her to the forest; the forest elves are required to send an attractive male or female elf (alternating each month) to "assist" the fox guardian… both with food, and with their bodies. (And they often stay with her for several days before returning home.) As with her mother before her, Nylavi is bound to her role as the forest guardian until she conceives a child – which she will then raise and train to take her place once they become an adult. Once the child takes her place, Nylavi herself is free to wander and live out the rest of her days as she sees fit… and any other children she has after that are also free to do as they wish – only the first born is bound to the guardian's contract. It is worth noting that only the first born inherits the powerful guardian magic – and they only retain it so long as they are in or around their assigned forest. Once they leave, around half their magic power will dissipate.

Special Information:
As a forest guardian, Nylavi is mainly concerned with the well being of the forest, as well as the animals that live in and around it; however – she is bored rather often, and turns to masturbation and sex to help pass the time. Nylavi has a distinct preference for other females – especially other beastgirls; but she will fuck men too – if the need/situation presents itself. However, she is far more skilled at pleasing women… in no small part because of how often she masturbates, and practices her techniques on herself. Unfortunately, much like catgirls – foxgirls and foxboys have significant fertility/virility issues… although it is nowhere near as severe as what the catgirls usually deal with; partly due to the foxes having much longer lifespans, primarily due to their magic. (Foxgirls are generally able to have at least a few children; on the other hand – some catgirls never successfully conceive, despite them usually trying far more than is reasonable/expected.) As they are so very rare, foxgirls and foxboys are extremely sought after as sex slaves and/or pets – much like catgirls; except that the foxes even more rare – though quite not as rare as a catboy. However, the foxes are also much more difficult to handle due to their affinity for magic… and due to that, no one has actually managed to capture one.
---
Delfina Sorcol-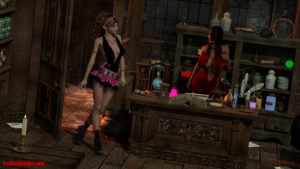 Sex: Female
Race: Forest Elf
Age: 137
Occupation: Courtesan/Model
Weapon(s) of choice: Sex, Cuddles, Other people
Alignment: Neutral Good
Stats:
Strength: 3
Dexterity: 7
Endurance: 3
Intelligence: 5
Wisdom: 6
Magic: 2
Charisma: 10
Sexual Skill: 7
Sexual Stamina: 9
Behavior Summary:
Delfina is a very bubbly and outgoing girl – which is particularly unusual for a young elf in a human city. However, she was also a "free" elf in human lands… which was even more unusual; and Delfina herself was very much aware of this – she hates the fact that so many of her people are sold and used as sex slaves. She also has a bad habit of giving out some of her "services" to friends, either for free or in exchange for something she wants or needs – such as the arrangement she has with Faye. Due in no small part to her cuteness, she almost always gets her way with people; as everyone has serious trouble saying no to her. Back when she first became a courtesan, there was a period in which the guards would often "arrest" her over false charges – as a pretense for getting free services. However, since Delfina was not a slave like most of the other elves at the brothel – she knew the laws and her right, they were quickly found out and exposed; and this mostly put a stop to what had been a fairly common practice before then.
Likes:
Kind people
Skilled, passionate sex
Cuddles
People that are skilled in bed
Sweets/Candy
Dislikes:
Abusive people
Bandits
Slavery
Racists
Spicy food
Bio:
Delfina Sorcol was born to a legendary elven courtesan in the human capitol city – and is a full blooded forest elf, despite never actually setting foot in the great forest. Her parents were both high end elven prostitutes – likely where she gets her good looks and sexual skill from. However, a few decades ago, both of her parents mysteriously disappeared without a trace… and since Delfina was considered too young to take care of herself at the time by elven standards, she was sent to Lithorca to live with her aunt – who worked at the Blue Butterfly. She lived in the city for decades – witnessing the decay of the trading city, as the sea trade dried up… however, the sex business was still going surprisingly well despite that. As soon as she was a legal elven adult, Delfina applied to work at the Blue Butterfly officially – which in a way was only a formality, since she had been helping out with minor things there for decades already. They accepted her immediately, and ever since then – she had been in high demand, and is very much the envy of many of the older elven whores that work there… including her aunt, whom she never much cared for.

Special Information:
Delfina is one of the very few examples of a "free" elf in human lands – and one of the few that harbor no real resentment towards the humans. (Except slavers, and humans that are cruel to their elven slaves.) She will fuck any kind person that comes to her as a customer – with no preference or price difference, much like Karen. However, she is very young as elves go – and is taking rather significant risks by working at the Pink Butterfly. She is easily one of the most popular girls at the brothel, due to her cute looks and cuddly personality – and much like with Karen, there are dozens of people around that would pay massive amounts of money to have her all to themselves… whether or not she was ok with it.